Do you ever see people with such an amazing fashion sense you want to cry? Well that's how I feel with Little Mix. I was going to write about all 4 girls in this post but there was just too much to say. This will be written in four parts, starting with Jesy Nelson.
The first thing about Jesy that I love is her bold sense of fashion. She often likes to wear things that are a bit out there, with bright, geometric prints.
Even since the X-factor, Jesy has been rocking the beanie look. She seems to have a big selection to choose from because in every picture she's wearing a different one. They usually have some sort of writing or picture on the front.
There's no need for a plain beanie when you're Jesy Nelson
Jesy doesn't like wearing any plain old leggings either. Oh no! Every pair she wears have either a cool cut, or bold design or both.
Love the look of these!
Quite possibly my favourite part of Jesy's look is her hair. I remember seeing her in her audition and wanting her hair, and I still want it to this day. Since Little Mix has started she has been blonde, red and now brown. Her hair has also evolved in the fact that it has slowly become straighter. But it has still managed to keep its volume.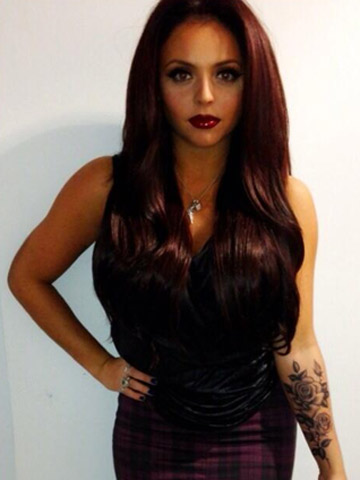 I don't think she even knows
the meaning of a bad hair day
And to complete the Jesy Nelson look, you cant forget chunky shoes. Big heels and Dr Martens seem to be her favourite. I've also seen her wear heelless heels a lot and I'm obsessed with them.
Words cannot describe how much
I would love to try theses shoes.
Thank you for reading about one of my style icons Jesy Nelson. Watch out for my posts about the other 3 girls. Who is your style icon? xxx